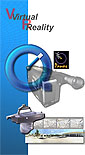 Virtual reality has reached to the top point that enables us to combine of mankind dreams through the centuries that to be exist at different places at the same time.

By means of Virtual Reality you can wander in a place, see whatever you want and you can communicate with the environment. By the Virtual Reality Tools it is possible to present a newly launched product or a recently built factory or a plant, to sell an Real Estate by an Agency, presenting a fair organization either be made or will be made, marketing of a leisure place or an amusement park, floating into a incomplete Architectural Building in any construction step, getting around in a natural environment.

AEC Teknoloji presents the Virtual Reality options and solutions with its pioneer experience and the quality in the field of Virtual Reality.